Archaeologist
Kiril "Kika" Trajkovski (born 27 November 1951, died 13 October 2012) was an archaeologist; expert and world authority on Macedonian history, culture and heritage; philanthropist and humanist.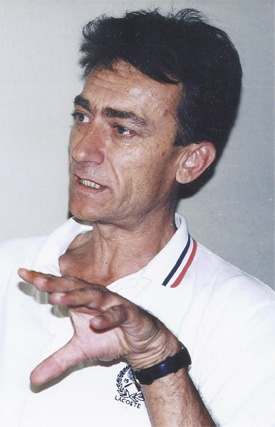 He was born in the town of Stip, Republic of Macedonia (then S.F.R. Yugoslavia) to parents, Olga and Stojce. He has only the one sibling: his sister, Slavica, who is an accomplished international business woman.
He was raised in his hometown of Stip, where he had a happy childhood. Handsome, charming and charismatic, he was very popular amongst his peers. He was given the affectionate moniker of "Kika" (the diminutive of "Kiril") which remained with him throughout his life. At school he was a high-achieving pupil, as committed to his studies as he was to having fun with his close-knit group of friends. In his teenage years, he had a short-lived flirtation with learning the saxophone. Although little came of it, he is to be credited with having introduced his friend, Koce Andonov – now a world-famous saxophonist and professor of music at the University of Graz in Austria.
He displayed a precocious interest in archaeology from an early age. When aged only 5, he stopped at an archaeological excavation whilst out on a walk with his mother. Fascinated by their work, he spent hours asking the archaeologists questions. They were taken aback by his incisive questioning and mature understanding. In later life, when recounting this story, he likened the event to a déjà-vu experience – he knew from that point on that he wanted to be an archaeologist.
Aged 18, he enrolled to read archaeology at the University of Belgrade. He proved an excellent student, highly regarded by his professors. He was much revered by his contemporaries and known for his generosity. Often he would share his allowance, food and clothing with less well-off students. He graduated in 1976 with a high first-class degree. In addition he was awarded the title of best student in his field of studies, an achievement that took a number of years to be repeated.
After completing his national service in the Yugoslav army he began his career at the Museum of Macedonia – the institution to which he remained dedicated for the remainder of his life. His first post was that of curator ('custos'). From the start of his career he achieved success and recognition for his discoveries. As an archaeologist, he combined to great success a methodical and disciplined approach with an uncanny sense of intuition.
Over the years his name has become synonymous with some of Macedonia's most famous archaeological sites; to name but a few : "Kostoperska Karpa" near the village of Mlado Nagoricane; "Grad" near the present day town of Delcevo; "Morodvis" situated in the village of Morodvis, near Kocani; "Bargala" and "Isar" both near the present day town of Stip; "Carevi Kuli" and the so-called "Antique Baths" both near the present day town Strumica; the churches and graves of "The Fifteen Holy Martyrs of Tiberpolis" also near the present day town of Strumica; and most recently the "Castel" near the river Pcinja. Out of all of the sites associated with his name, it is "Morodvis", the village which was the site of the political and Christian mission where St Cyril of Salonica formulated the Slavonic alphabet (Cyrillic alphabet), that was his labour of love. Through his dedication and determination, which spanned almost three decades, he made numerous discoveries including the unearthing of the relics of five saints (most probably the early Christian martyrs of Tiberiopolis).
He was widely published within the archaeological community. He was known both in Macedonia and abroad and often gave the keynote address at international archaeological conventions. Despite being offered academic posts by several overseas universities, he declined, preferring to dedicate himself to his work at home. Although he appeared in TV and radio interviews he was a private and modest man, never craving the spotlight.
In his later life he voluntarily accepted the post of senior advisor at the Museum of Macedonia, supporting and guiding the younger generation of archaeologists both from Macedonia and from overseas. By taking on a more advisory role on the various archaeological projects he was able to devote more of his time to his invaluable contribution as author to the History of Archaeology in Macedonia and the broadening of his PhD.
Outside of archaeology he was associated with a number of causes. He was an integral part of the foundation of the Macedonian Heraldic Society in 2003, for which he was honoured with the title of vice president. He advocated recognition of the contribution given to Macedonian culture and heritage by its former Jewish community. He lived to see the installation of the Holocaust memorial in Stip.
He continued his generosity towards those less fortunate than himself throughout his life, regularly donating money and clothing to the villagers near the sites where he excavated.
He was a lifelong patriot of Macedonia, rising above party political lines. Recognising that archaeologists and historians have been manipulated for political purposes, he was uncompromising in his ethos that the truth must be revealed, no matter how uncomfortable that may be. Fearless in defence of his principles, he was always prepared to walk courageously through the minefield of Balkan issues.
He will be remembered by all those who knew him for his knowledge, integrity and infectious lust for life.
It is in his honour that this charitable foundation has been established, so as to help further the educational values in which Kiril Trajkovski so passionately believed.
His passing was untimely, with much work still to finish.
He is survived by his father, sister and three sons.