Slavica Waite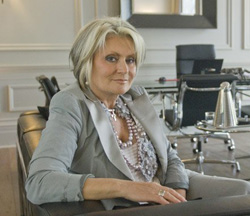 She was born in Skopje, Republic of Macedonia (Formerly S F R Yugoslavia). She graduated from the University of Skopje in world literature which is the subject that she holds her professorship in. She moved to the UK in her early twenties, and settled down in London which has been her home for the majority of her life.
Shortly after moving to London, she left academia and re-established herself as a successful business woman in the international energy trade sector.
Throughout her life she has kept a very close link with Macedonia and the former Yugoslavia.
She was appointed Director of the Macedonian Information Office in 1992. This was the first appointment made by the Macedonian Government of one its nationals in the UK.
In 2000 she was awarded the medal of St Clement by the then President of the Republic of Macedonia, Kiro Gligorov, in honour of her of work in promoting business and cultural relations between the UK and Macedonia.
She is founder of the Kiril Trajkovski Foundation in memory of her late brother.